Doctors & Staff
Meet the experienced and friendly doctor and staff who make Northwest Tennessee Eye Clinic, P.C. the leading provider of vision care products and services in Martin.
Frances Bynum, OD
Dr. Bynum was raised in Crawfordville, FL. After graduating from Wakulla High School in 1988, she received a
Bachelor of Science degree from Florida State University and her Doctorate of Optometry degree from Southern College of Optometry in Memphis. She completed externships at Baptist Eye Institute, Jacksonville, FL and Drs. Woods, Lanier & Bowman in Jacksonville, FL. Dr. Bynum then moved to Martin, TN where she practiced with Eye Care Center for four years. In 2000, she opened Northwest TN Eye Clinic in Martin and Greenfield, TN. Dr. Bynum is married to Tim Bynum and they have a son, Aubrey. As the owner of Northwest TN Eye Clinic, she has brought state-of-the-art equipment and the latest procedures into the practice. Dr. Bynum has a strong background in contact lenses, ocular disease, and pathology, as well as refractive surgical care. Dr. Bynum is a National Board of Optometry Examiner and an active member of the American Optometric Association, Tennessee Association of Optometric Physicians  and the Northwest Tennessee Association of Optometric Physicians. She has also completed the Leadership Weakley County Program. Dr. Bynum is also a fellow of the Tennessee Academy of Optometrists. Dr. Bynum serves as a Vision Source Administrator. She is a speaker for Cooper Vision.
---
Carol Ary
Carol works in both the Martin and Greenfield offices scheduling appointments and registering patients. She also dispenses contacts and helps patients in their selection of frames to best suit their needs as well as their personality. Carol has been working with Dr. Bynum for about 20 years. She and her husband are members of the Greenfield Church of Christ.   They have two children:  Jenny (Corey) and Clint (Allison) and  6 grandchildren (Cael, Caden, Cuyler, Mia, Colston & Emerson).
---
Cheryl Cloar
Cheryl assists patients in making appointments and registration. She also works in billing by filing insurance claims. Cheryl and her family make their home in Troy. She is the proud granny of two handsome little boys, Tanner and Kaden, and beautiful granddaughter Ryan.
---
Kellie Harris
Kellie is a Certified Paraoptometric Assistant (CPOA). She assists with patient exam workups, inventory analysis and retinal imaging. Kellie performs Low Level Light Therapy treatments, retinal imaging, as well as testing for Age Related Macular Degeneration. She helps patients  choose the best frame and lens selections for their individual needs. She manages all contact lens orders and frame inventory. Kellie serves as the Vision Source Representative Facilitator for Northwest TN.
---
Michele Brown
Michele is a Certified Paraoptometric Assistant (CPOA). She assists with the billing of insurance claims as well as ordering glasses and contact lenses. She also coordinates cataract surgeries for patients.  Michele and her family make their home in Martin.
---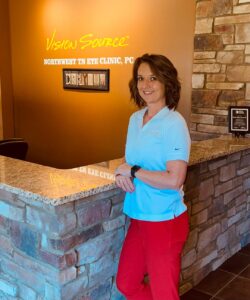 Brigitte Reaves
Brigitte is a medical scribe.  She is responsible for recording Dr. Bynum's interactions with patients and assists with clerical duties related to medical documentation.  She also assists with retinal imaging with patients.  Brigitte is married to Kyle and they have two beautiful daughters, Bella and Piper.  She and her family reside in Martin, TN where she is very active in rec league sports. They are members at First Baptist Church in Martin as well.